Kemakom Goes to School: Seminar for Vocational Students on Jobs in IT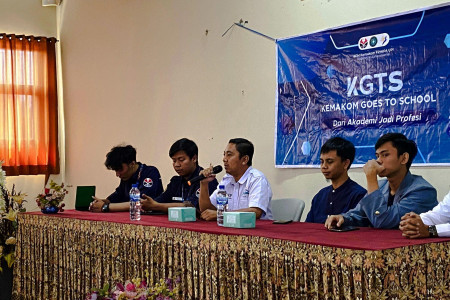 On August 23 and 25, 2023, BEM Kemakom FPMIPA UPI carried out Kemakom Goes to School (KGTS) activities. KGTS is a seminar activity aimed at high school / vocational high school students in the city of Bandung with the aim of providing an overview of lectures and future orientation. This event can also provide in-depth insight into lectures and career opportunities in the field of Information Technology (IT) to students who are interested in the world of technology. This year, KGTS was held in two schools, namely SMKN 1 Katapang on Wednesday, August 23, 2023 and SMKN 2 Bandung on Friday, August 25, 2023.
At this year's KGTS BEM Kemakom invited Aldi Zainafif as a speaker who is an alumni of the 2011 FPMIPA UPI Computer Science study program who is currently a Software Engineer at Flip. He explained the jobs that exist in the field of technology, an overview of the career path, the range of salaries earned, and tips & tricks regarding these jobs. Furthermore, he explained about lectures and explained the relationship between lectures and the jobs that have been mentioned.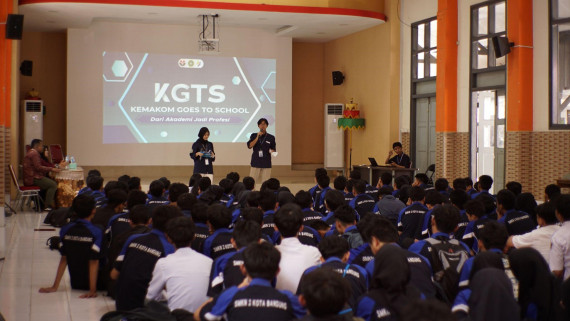 The enthusiasm of the participants was also very high at this event with a total of 100 participants. Participants actively asked questions and opinions related to the material presented by the speaker.
Kemakom Goes to School provides interesting insights for students who have an interest in the world of Information Technology. This event not only provides insight into IT courses but also opens students' eyes to the various career opportunities that await them in the world of technology. Thus, this event provides a solid footing for those who want to pursue a career in the IT world, which continues to grow and offers various opportunities for a bright future.